Anyone who looks at the history of Europe's musical metropolises quickly realises: Dresden has always held a special place. This is due, among other things, to the quality of the Sächsische Staatskapelle, which celebrates its 475th anniversary this year and is thus one of the oldest as well as most renowned orchestras on the continent. Vivaldi dedicated a work to the ensemble at the beginning of the 18th century. Beethoven raved about it in the highest terms. But hardly anyone had such an intimate relationship with the city and its musicians as Richard Strauss.
Chief dramaturge Johann-Casimir Eule: "Strauss was a brilliant craftsman"
Born in Munich, Strauss began composing in 1870 at the age of six. After graduating from high school, he briefly studied art history and philosophy, but dropped out to devote himself entirely to music. "Richard Strauss found support and recognition very early on in Dresden, among the conductors of the court opera at the time and especially among the musicians of the Staatskapelle," says Johann-Casimir Eule, chief dramaturge of the Semperoper. "Thus his Serenade for 13 wind voices op 7. was premiered in Dresden in 1882 at the Tonkünstlerverein with wind players from the court orchestra of the time." For the then 18-year-old, this represented the necessary confirmation that his decision to pursue music was the right one.
Strauss and the Staatskapelle: "Feelings of deepest gratitude and admiration"
Nine of the composer's 15 operas were performed in Dresden. "Strauss was truly an ingenious 'craftsman' who, from a deep knowledge of music history, the art of instrumentation, the needs of singers as well as the possibilities of an orchestra, constantly developed new timbres, musical spheres and ways of telling stories," emphasises Eule. "And he was and always remained curious about new things, was close to the performers, in intensive exchange with the artists and conductors. This enabled an understanding and probably also a creative relationship to develop with each other over several decades, which is special in this form in music history." Richard Strauss himself noted in 1948 about the Staatskapelle: "From the wealth of wonderful memories of my artistic career, the sounds of this master orchestra always evoke anew feelings of heartfelt gratitude and admiration".
With "Der Rosenkavalier" the Richard Strauss Days reach an early climax
The Richard Strauss Days have been honouring this special relationship since 1909. After a matinee on 2 April, a first highlight follows on Monday with the opera "Der Rosenkavalier". "The work is simply iconic for our house and the Sächsische Staatskapelle," Eule emphasises. "The cast, including Camilla Nylund, Peter Rose, Sophie Koch and Markus Eich, is outstanding, Cornelius Meister conducts and the production by Uwe Eric Laufenberg is a very clever and beautiful bow to the premiere set by Alfred Roller, which set the standard for many decades."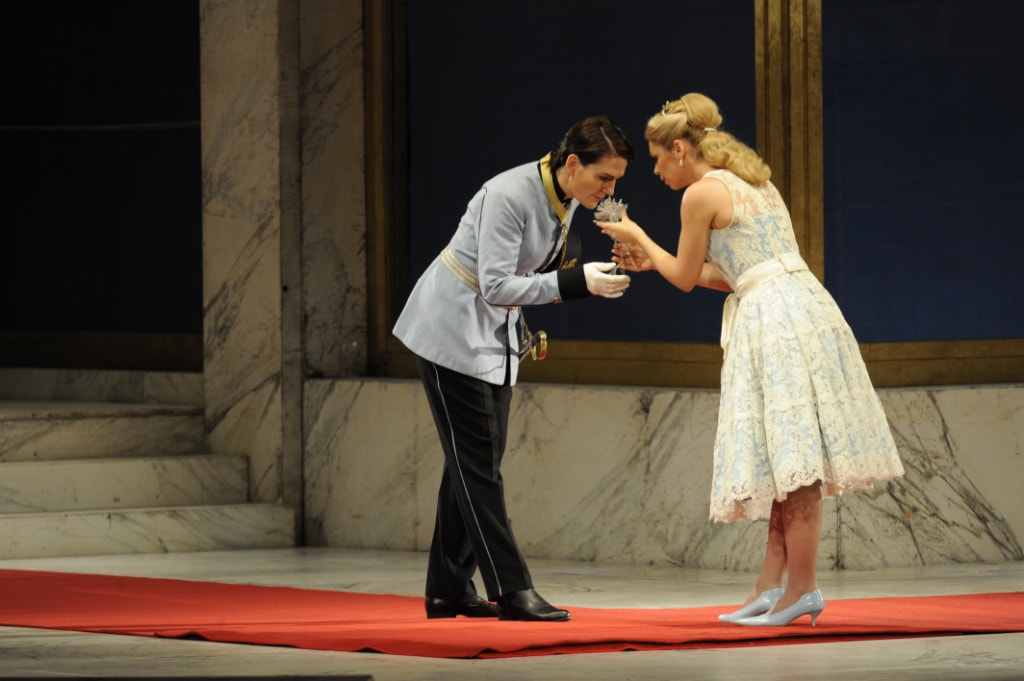 "Der Rosenkavalier": Production has been thrilling audiences for over 20 years
Laufenberg's production of "Der Rosenkavalier" has long since set standards itself. It has been in the repertoire for more than 20 years and continues to delight audiences and critics alike. In the Strauss oeuvre, the work – first performed in Dresden in 1911, of course – occupies a special place. It is here that Richard Strauss' admiration for Wolfgang Amadeus Mozart comes through most clearly.
Chamber recital on 13 April juxtaposes Strauss and Mozart
So what could be more obvious than to juxtapose the works of both composers? This is what happens on 13 April at the chamber evening. Strauss' Serenade in E-flat major op. 7 for 13 wind instruments and "Metamorphosen" frame Mozart's String Quintet No. 6 in E-flat major KV 614. The fact that ensembles like the Dresdner Kammerharmonie can perform the "Metamorphosen" in this version at all is due to a coincidence. The late work is originally known in the orchestral version for 23 solo strings. However, a score was discovered in Switzerland in 1990 which suggests that Strauss had previously planned a version with seven strings. Rudolf Leopold, who was a concert cellist and professor of violoncello at the Musikhochschule Graz, undertook a reconstruction which was published in 1996.
Richard Strauss was an ardent Mozart admirer
Strauss was born with an enthusiasm for Mozart: "Richard Strauss' father Franz Strauss, horn player in the Munich court orchestra, was an ardent and knowledgeable admirer of Mozart. At home, for example, he had the first critical complete edition of Mozart's works, which was absolutely unusual at a time when Mozart was rarely played and Wagner dominated tastes," Eule explains the background to the Mozart fascination. His "melody hovers between heaven and earth, between mortal and immortal, deepest penetration of the artistic imagination into ultimate mysteries", Strauss was still raving in 1944.
Richard Strauss Days will also take place in 2024
This year's Richard Strauss Days will thus illuminate different aspects of the composer for a fortnight. Unlike in the past, the next edition will follow only one year later: "In any case, our plans together with Christian Thielemann also include Richard Strauss Days in the Semperoper in 2024," Eule gives an outlook.