Imagine the scence: you're visiting Dresden, eating out in one of the many restaurants with your friends and everyone is talking about the city you're in. Suddenly, someone smiles and throws in a quote from Italian novelist Umberto Eco: "The people of Dresden don't ask you if you like the city. They tell you." The locals certainly seem sure of their city's popularity.
Dresden – where beauty was invented.

Art writer Johann Joachim Winckelmann, 1755
Dresden is picturesque – quite literally
Finding Dresden beautiful is a tradition that goes way back. Ever since the Venetian artist Bernardo Bellotto, known as Canaletto, immortalised the city's skyline in his famous painting from 1748, the view has become something of an icon. Poets and thinkers were enchanted by its location in the Elbe valley. And in 1755, the art writer Johann Joachim Winckelmann exclaimed: "Dresden – where beauty was invented."
To this day, hardly any writing omits the description of it as the "Florence on the Elbe". Dresden's appearance is Mediterranean and it is rich in baroque architecture. The magnificent Frauenkirche (Church of Our Lady), rebuilt with international donations, stands out from the cityscape silhouette. It is now a world-renowned symbol of reconciliation and reconstruction.
And the sight of the neo-classical Semperoper is also familiar to many – not least from a well-known beverage advert. No surprise then that a city that boasts buildings like these sees itself as "beautiful". But can the beauty of a city really be reduced to a number of architectural monuments?
But what is beauty anyway? Some say it is in the eye of the beholder. So, Eco's quotation adds a little zest to our imagined dinner party. A quick Google search for "Germany's most beautiful city" shows that the various top-ten-ratings disagree on which holds the first place. However, many of the names in those hitlists reappear and Dresden is often among them – which is in itself quite remarkable since Germany has some 80 major cities. There seems to be some agreement on what a "beautiful" city is. But what exactly is "beautiful"?
There's an opposite for everything
Philosophers have long since been concerning themselves with this question. Immanuel Kant, a philosopher of the Enlightenment, articulated one of the modern age's most well-known theses some 230 years ago. His most famous claim was that beauty was experienced as "disinterested pleasure". Many impressions can trigger pleasure, for example the sight of a lovingly prepared meal. However, there is an "interest" behind this kind of pleasure, in this example it is appetite. So that kind of pleasure is not "uninterested".
Pure beauty is revealed when one simply pays attention to a beautiful thing and, in the best case, recognises a harmonious whole to which nothing can be added or taken away. This sometimes takes time and effort. Who of us hasn't experienced finding a highly praised work of art seems rather inaccessible on first glance? But then, after a longer look, it starts to unfold a certain magic.
Take a first glance at Dresden's beauty.
Dresden can also appear "inaccessible" in some places. Rather cold-looking functional buildings from the post-war period up to the recent present make it difficult for visitors to find the city consistently beautiful at first sight – but such inconsistencies can open up a deeper understanding.
They are witnesses to the city's eventful history and tell us something about its personality. They reveal the truth – which can also be "beautiful". And, as we know, nothing exists without its opposite. The contrast to what is perceived as ugly highlights what is beautiful all the more.
Dresden is unusually rich in art treasures
A city is not a work of art. In the absolutist age of a ruler like Augustus the Strong, it may have been designed with the attitude of an artist. Today, however, urban spaces are created in such a way that they ideally meet as many interests as possible. The aesthetic concern is only one of many. Nevertheless, if you are looking for beauty in a Kantian sense, Dresden is the place to be. The city is unusually rich in art treasures, which offer the opportunity to experience "disinterested pleasure" to the full.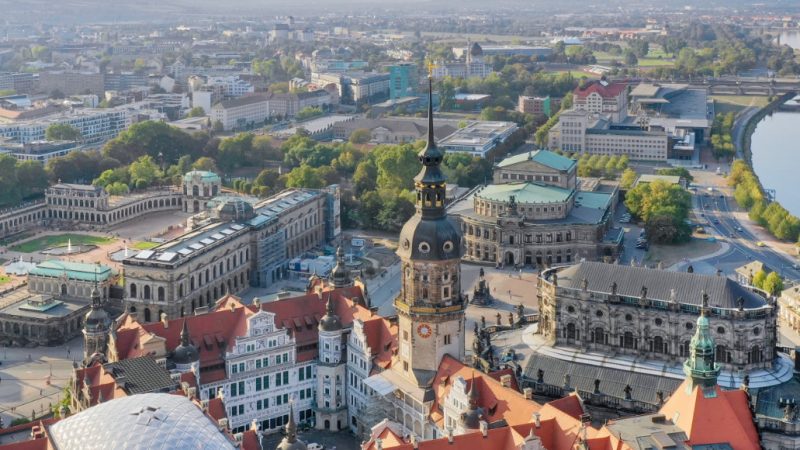 Entdeckt die Stadt aus einem neuen Blickwinkel
The relevance of atmosphere
Beauty has always been a concern for the people of Dresden. In the discussions about the authentic reconstruction of the Neumarkt square around the Frauenkirche church, some well-established and passionately expressed positions clashed with each other. Every era is represented here. Reconstruction in the style of the Renaissance and Baroque plus the perception of Dresden as a "Gründerzeit city" and the beautiful villa districts of Blasewitz and Weißer Hirsch along with the stylish streets of the Neustadt district are all worth visiting in their own right. The straightforward beauty of the so-called "East Modernism" also has its dedicated followers. And then there is the demand for more room for good contemporary architecture. In Dresden, "beautiful" is not just a rating, the adjective also expresses an attitude.
You can experience this attitude here. To do so, you have to come to Dresden and move around in the city. This is the only way to reveal the qualities that philosopher Alain de Botton finds in all cities that are considered beautiful. Such a city offers the right balance between order and variety. There is a lot to discover in Dresden, and its picturesque location on the Elbe means that it is easy to navigate. Then there are the popular districts such as the Äußere Neustadt which are lively and vibrant, full of attractive places such as cafés, restaurants and small shops. They all have "atmosphere". Today, architects and urban planners increasingly use this term to describe the beauty of a city.
Umberto Eco was wrong
Surveys show that tourists value Dresden as a "beautiful (baroque) city with flair". So, can a marketing expert define "flair"? Peter Pirck, managing director of Brandmeyer Stadtmarken-Monitor, smiles when asked this question. "You'll have to ask the architects," he says. His market researchers ask people how much "beauty" or "flair" they attribute to a city. "And the respondents usually know exactly what is meant by these terms." By the way, on a scale of 1 to 10, the statement "Dresden is a very beautiful city" achieved such high approval ratings in Brandmeyer's surveys that it came first among Germany's most beautiful cities. So, you could say that Umberto Eco was a little mistaken. It is not the people of Dresden who claim that their city is pleasing. It's the visitors who have been telling them for many centuries right up to the present day.