The Bauhaus, Russian Constructivism and the Dutch De Stijl movements systematically continued what had begun with Cubism: a departure from the purely representational and a move to clear forms. With their completely new ideas of harmony and aesthetics, of colour and space, these movements could almost be classed as revolutionary.
They had a presence in Berlin, of course, as well as in Frankfurt am Main, Weimar and Dessau. But the revelation that Dresden too was a hub for non-representational art may come as a surprise: after all, New Objectivity and Late Expressionism were all too present here in the 1920s, while the city's Baroque heritage continued to outshine everything else.
In Visionary Spaces, the Albertinum is directing a spotlight onto a generally unremarked aspect of the city. According to the exhibition curators, Dresden was "sated on tradition", on the one hand obsessed with its past, on the other, craving something else entirely.
A select group of gallery owners, art collectors, experts, sponsors and politicians had acquired a taste for the new. Bauhaus master Oskar Schlemmer called this network a "well-tempered circle" and designated Dresden a "good breeding ground for quality art".
What was it like then to see this radically new art, to feel this ground under one's feet? The Albertinum gives answers to these questions. With a generous contingent of loan items from international museums and private collectors, the exhibitions of the 1920s are brought back to life within a small space.
One of the walls has been authentically modelled on a former Dresden exhibition venue: the rooms of the Neue Kunst Fides gallery were designed by the Bauhaus master Hinnerk Scheper. Works went on display there by artists such as Lyonel Feininger and László Moholy-Nagy who was given a ground-breaking solo exhibition.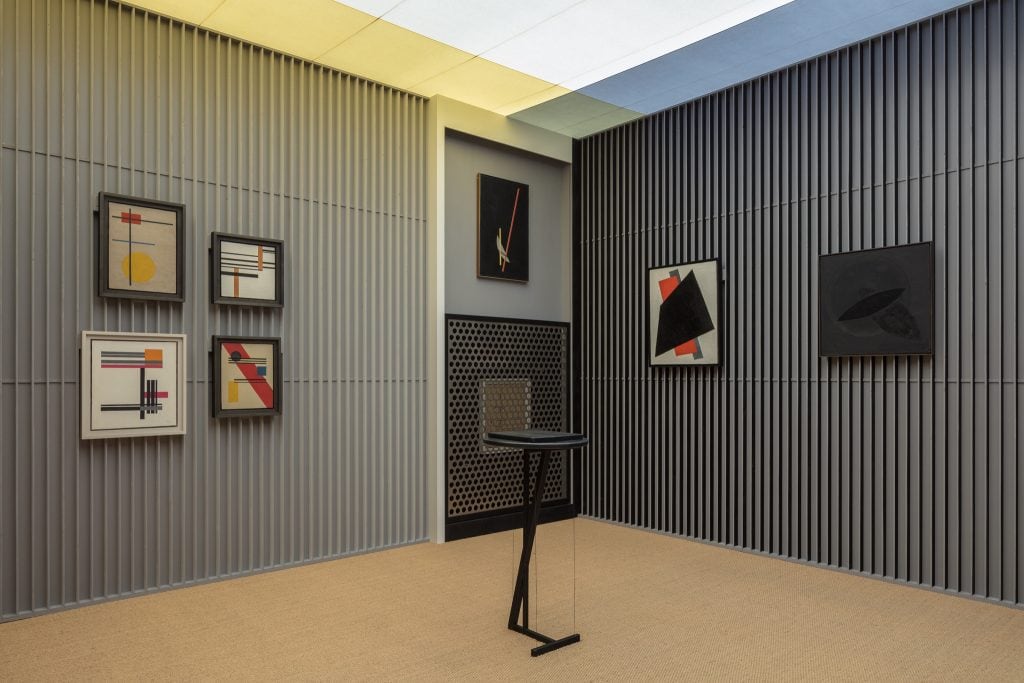 Visitors can also see a faithfully reconstructed centrepiece of the Dresden International Art Exhibition of 1926: the Russian architect El Lissitzky created his own "Room for Constructive Art" which quite deliberately plays tricks on the viewer's sense of perspective.
Piet Mondrian, the Dutch artist famous for his geometric paintings, also designed such a "visionary space", an interior for the Dresden collector and patron Ida Bienert who regularly hosted artists such as Kokoschka and Klee. However, this was never realised in the family villa and remained as a drawing only.
But now, more than 90 years later, visitors can see and enter the room in the Albertinum. The Viennese artist Heimo Zobernig has at last constructed Mondrian's room, albeit in his own interpretation: in an act of "spatial appropriation", he has literally turned the 1926 draft design inside out.
The Dresden Albertinum thus provides a venue in which history is reconstructed and the old is transformed into the new.
Visionary Spaces. Kandinsky, Mondrian, Lissitzky and the Abstract-Constructivist Avant-Garde in Dresden 1919–1932 runs from March 2nd to June 2nd 2019 at Albertinum, Tzschirnerplatz 2, 01067 Dresden.