Eyewitness
To get the best impression of the party, you need to be actually there. Virtual Reality makes this possible. TimeRide Dresden transports visitors back to the year 1719 – in one of the carriages travelling to the royal wedding or as a guest of Augustus the Strong at the Festival of Mercury.
Open daily
Taschenbergpalais
Taschenberg 3, 01067 Dresden
www.timeride.de/dresden
Wedding Transport
The exhibition Von Prunkgondeln, Prachtkutschen und Pferdeäpfeln – Unterwegs zur Jahrhunderthochzeit 1719 (Of gondolas, state carriages and horse manure: En route to the wedding of the century in 1719) shows how thousands of guests travelled from Vienna to Dresden and were subsequently transported around the city.
From September 2019 to March 2020
Verkehrsmuseum Dresden
Augustusstrasse 1, 01067 Dresden
www.verkehrsmuseum-dresden.de
By river
300 years ago, the bride arrived at Pirna, from where she continued her journey to Dresden. Lustgondeln anno 1719 is a re-enactment of this river trip in which ornate gondolas will travel sedately down the Elbe from Pirna to the old town of Dresden.
25/08/19
Orange trees
Dresden goes Mediterranean: in Augustus the Strong's day, the Zwinger had a magnificent orangery. This tradition has been revived – the little orange trees return from their winter quarters, borne aloft in a parade with baroque entertainment and ample supplies of vitamin C.
18/05/19
Dresdner Zwinger
Sophienstrasse, 01067 Dresden
www.der-dresdner-zwinger.de
Planetary science (I)
Schloss Burgk is the venue for a special exhibition: 300 Jahre Saturnfest im Plauenschen Grund commemorates the tercentenary of the Festival of Saturn staged in a river gorge south of the city. This year's Bergmannstag (Miners' Day) will be a baroque-themed party with courtly costumes and fireworks.
19/05/19
Schloss Burgk
Altburgk 61, 01705 Freital
www.sachsens-museen-entdecken.de
Baroque comedy
Liebesfrust und Hochzeitslust oder Früher waren mehr Prinzen (Love's frustration and wedding joy or There used to be more princes): an actor and a musician join forces to bring pandemonium onto the stage. Between them, they play all the characters from the grand princely wedding, thereby transforming it into a baroque comedy.
From 27/06/19
Dresdner Comedy & Theater Club
Hauptstrasse 13, 01097 Dresden
www.comedytheaterclub-dresden.de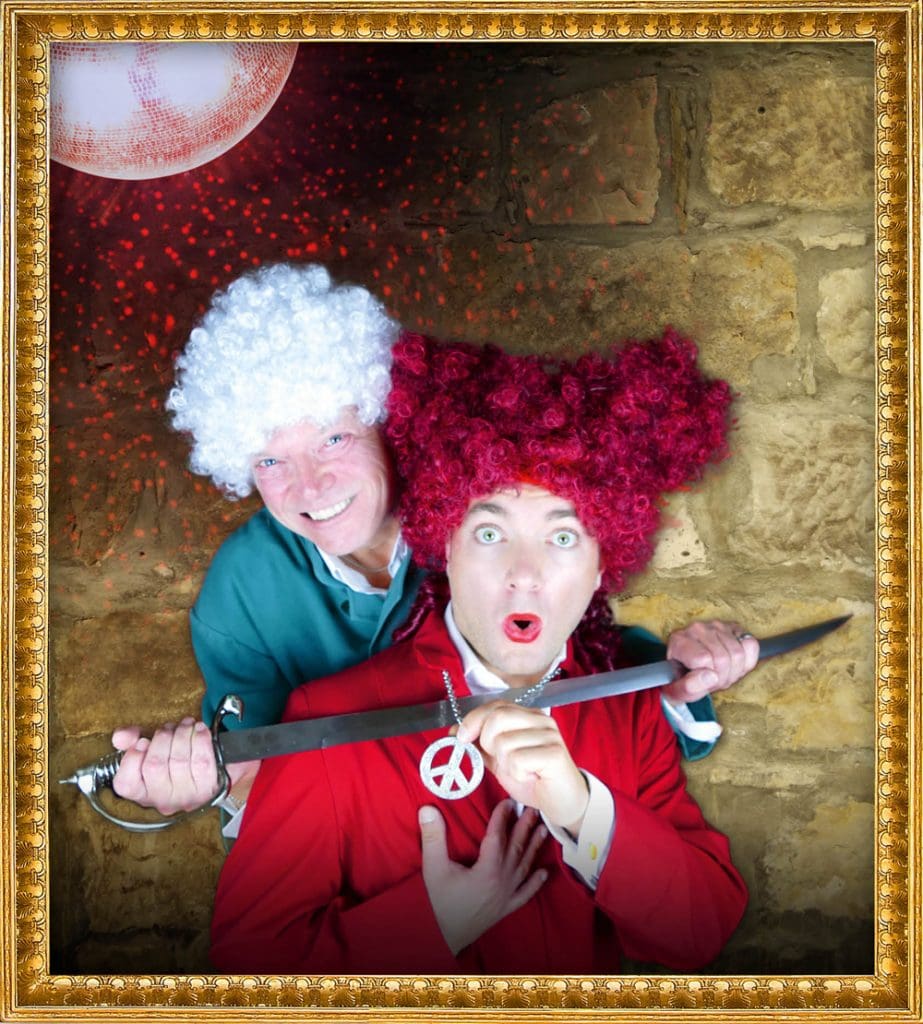 Majestic
400 artists, 85 concerts and 16 stages: The 11th Dresdner Schlössernacht (Night of the Dresden Palaces) in the grounds of the three Elbe palaces – Lingner, Eckberg and Albrechtsberg – as well as in the former Saloppe waterworks promises to bring together majesty, radiant illuminations and the spirit of the year 1719 in in a single evening.
13/07/19
Elbe Palaces
www.dresden.de
Instruments of power
Focusing specifically on the prince elector's wedding, the exhibition Macht Mittel Musik (Music as an expression of power) sheds light on the question of how culture and music were used to build a power base – and how this major event shapes Dresden's self-image to this day.
29th August 2019 – 12th January 2020
Buchmuseum der SLUB Dresden
Zellescher Weg 18, 01069 Dresdenwww.slub-dresden.de
Canaletto
'Dresden from the Right Bank of the Elbe below the Augustus Bridge': This painting by Canaletto is one of the most famous representations of Dresden – and the name of the artist has been co-opted by Dresden for its great City Festival.
Entire city centre area
16th – 18th August 2019
www.canaletto-fest.de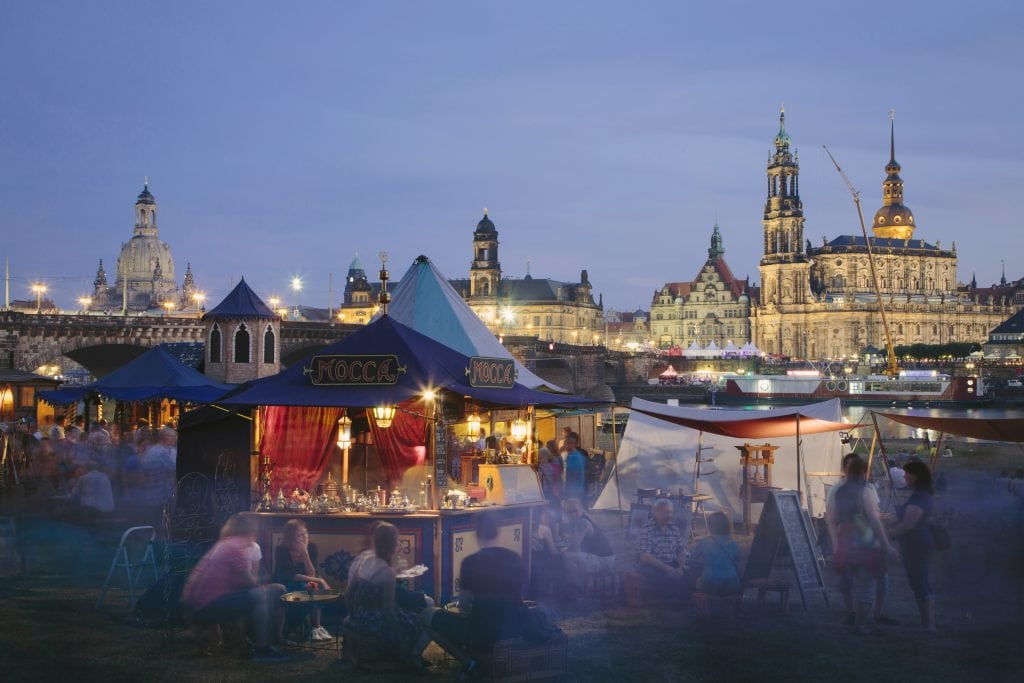 Planetary science (II)
While Freital recreates the Saturnfest, the Grosser Garten in Dresden is commemorating the Venusfest of 1719. Eine delikate Lustbarkeit (A delicate merrymaking) is the title of the exhibition. It opens with a 'citizens' party'. During autumn, the Palais will be transformed into an opera stage.
From 6th September 2019
Grosser Garten
Hauptallee 5, 01219 Dresden
www.grosser-garten-dresden.de
Through the bedroom keyhole
In preparation for the wedding of Maria Josepha and Friedrich August II, Augustus the Strong decreed that the Residenzschloss should be given a French style makeover. A State Apartment with five baroque reception rooms was installed, including a bridal suite with a four-metre-tall bed. Following extensive restoration work, the State Apartment in all its original splendour will be made accessible to the public again in September.
From September 2019
Residenzschloss
Taschenberg 2, 01067 Dresden
www.skd.museum
A mighty fortress
Festung Dresden, the Dresden Fortress, is due to reopen in autumn 2019. It was one of the most state-of-the-art fortresses in Europe 450 years ago and is now about to thrill and delight with a truly modern multimedia exhibition format: Festung Xperience is a journey back through time with 360-degree projections and atmospheric audio technology recreating the fortress as it was 450 years ago.
From autumn 2019
Festung Dresden
Georg-Treu-Platz 1, 01067 Dresden
www.festung-dresden.de