Who was Gerhard von Kügelgen?
Gerhard von Kügelgen was a portrait painter and professor at the Dresden Art Academy. Kügelgen immortalised all the important personalities of his time on canvas, including the Russian Tsar's family, the war hero Gebhard Leberecht von Blücher and his close friend Caspar David Friedrich. In Weimar he painted Johann Wolfgang von Goethe's portrait, who called him a "painter of souls".
The Kügelgenhaus: Formerly a meeting place for intellectuals, now a museum
Kügelgen, who was born 250 years ago, lived with his family in Dresden's Neustadt from 1808 to 1820. The painter's home was a meeting place for artists, poets and musicians of the early Romantic period – an era during which Dresden played a pioneering role as the art city.
Carl Ludwig Fernow was a German art theorist, Romance philologist and librarian in Weimar. His portrait by Gerhard von Kügelgen is exhibited in the Galerie Neue Meister. Photo: Elke Es-tel/ Hans-Peter Klut

Around 1815, Gerhard von Kügelgen painted a portrait of the young Georg van der Breling. Pho-to: Albertinum | Galerie Neue Meister

Kügelgen also immortalised his wife, Helene Marie von Kügelgen, in oil on canvas. Photo: Al-bertinum | Galerie Neue Meister

In one of his major works, Kügelgen juxtaposed the gracefully youthful David with the older, scowling King Saul. Kügelgen referred to a biblical scene: "Now whenever a spirit of God as-sailed Saul, David took the zither and played on it. Then Saul felt relieved, he was well again and the evil spirit departed from him." Photo: Albertinum | Galerie Neue Meister
Today, the Kügelgenhaus houses the Museum der Dresdner Romantik, which commemorates Dresden's outstanding significance in the Romantic period. The Kügelgen family and their prominent guests as well as the most important exponents of Romanticism are presented in nine thematically designed rooms, all fitted out with furniture typical of the time.
Particular attention is paid to Johann Wolfgang Goethe's visit to Kügelgen. Kügelgen's atelier, which has been refurbished, as well as the richly painted wooden ceilings from the 17th century are particularly worth seeing.
Virtual tour of the Kügelgenhaus
If you are unable to visit the Kügelgenhaus in person, we recommend you take a virtual tour of the Museum der Dresdner Romantik via this link.
The special exhibition "Tatort Waldschlösschen" deals with Gerhard von Kügelgen's murder
Gerhard von Kügelgen's life was brilliant, but his death was tragic. On 27 March 1820, he was robbed on his way home in the evening and beaten to death. The murder shook Dresden society. The robber and murderer, the soldier Johann Gottfried Kaltofen, was quickly apprehended and the murder was accounted for. Nevertheless, some questions remain unanswered. Based on this terrible crime, the special exhibition "Tatort Waldschlösschen. Leben und Sterben des Gerhard von Kügelgen" presents the artist's life and work in Dresden and the consequences of this violent act on the occasion of his 250th birthday. The special exhibition runs until 20 December 2022.
Opening hours Kügelgenhaus – Museum der Dresdner Romantik
Opening hours: Wed – Fri 10 am to 5 pm, Sat/Sun, public holidays 12 pm to 5 pm, closed Mon/Thu Admission: 4 euros, concessions 3 euros
Address: Hauptstraße 13, 01097 Dresden
From Caspar David Friedrich to Ludwig Richter: Art of the Romantic period to the present day at the Albertinum
Dresden was an important place in cultural and intellectual history during the Romantic era. Gerhard von Kügelgen, Johann Wolfgang von Goethe, Johan Christian Dahl, Heinrich von Kleist, Georg Friedrich Kersting, Ludwig Tieck, Novalis, Theodor Körner, Friedrich and August Wilhelm Schlegel, Wilhelm Heinrich Wackenroder, Caspar David Friedrich, Philipp Otto Runge, Carl Gus-tav Carus, E. T. A. Hoffmann, Robert Schumann, Richard Wagner and Carl Maria von Weber – and almost all important painters, poets, musicians and philosophers lived for a time in Dres-den and the Elbland from the end of the 18th to the middle of the 19th century.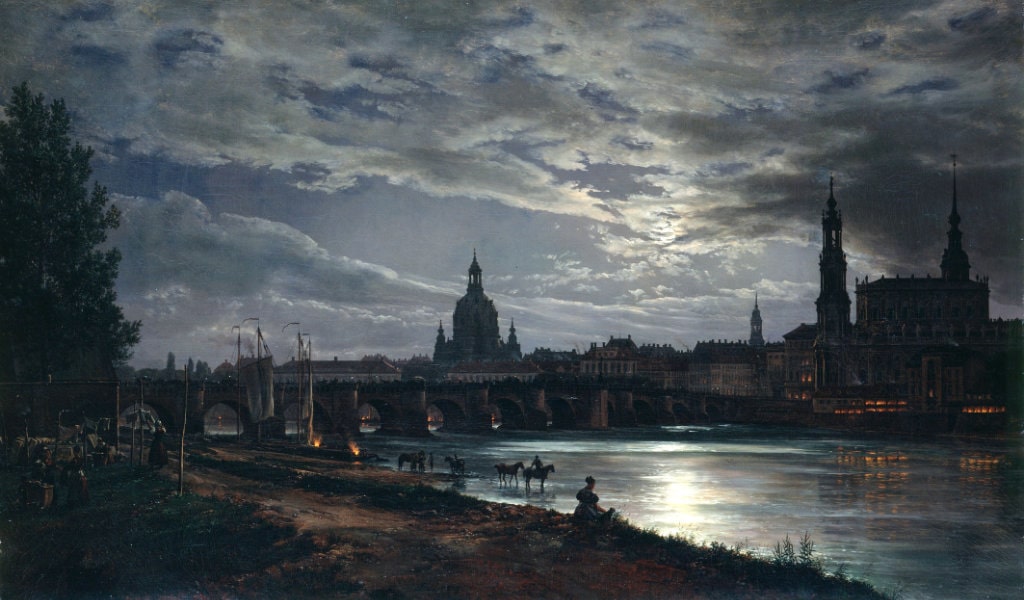 Numerous paintings from this era are on show today in the Galerie Neue Meister at the Albertinum.
Opening hours Albertinum: daily 10-17h, closed on Monday.
Admission: 8 euros, concessions 6 euros, free for under 17s
Address: Tzschirnerplatz 2, 01067 Dresden