Moored alongside the tourist steamers of the Saxon Steamship Company at Terrassenufer is an unusual river-going craft: the Theaterkahn Dresdner Brettl. Holger Böhme is writer, director and, since 2017, general manager of the company. He is actually one of the original crew. His ensemble is a close-knit community that has been shaping Dresden's cultural landscape since 1988, initially part of the underground scene, but now occupying a prime location.
The curtain goes up six days a week, and there are three or four new productions each year. Böhme tells of the early days and what were premieres in every respect. Because in the 1980s, nobody was dreaming of a stage on the Elbe – more of making the big time in West Germany. In 1988, the GDR was struggling to keep its top actors in the country and so responded with concessions. One of these actors was Friedrich-Wilhelm 'Fiete' Junge, and the concession the regime made to him was artistic freedom.
When the curtain came down each night in one of the approved theatres, that's when Junge's time became his own. In the Tonne jazz club under Kurländer Palais, he staged works by James Joyce and Christa Wolf, by Erich Mühsam, Georg Kreisler and Heinrich Heine. The Dresdner Brettl developed its own unique style of delivery, with satire, high standards and anarchic wit. According to Böhme, this "relatively independent institution of the Staatsschauspiel Dresden" was the first independent theatre in the GDR.
With the demise of the communist regime, the main artistic theme was change. The Dresdner Brettl graduated from underground status to take up residence on the third floor of a house in Maternistrasse that had previously served as the training centre for the local SED, the ruling communist party. Here there was room for a grand piano, 100 spectators and a bar. "The thrill of success and a desire for freedom combined to take us into the free market economy," says Böhme. The Dresdner Brettl, at that time still a city-run enterprise, wanted to acquire its own sponsors and move to a more visible location.
Böhme had the idea while sitting in a pub: "If we had a boat, then we could just moor anywhere." Nothing is more powerful than an idea whose time has come – even if, as Böhme admits, it was a "crazy idea".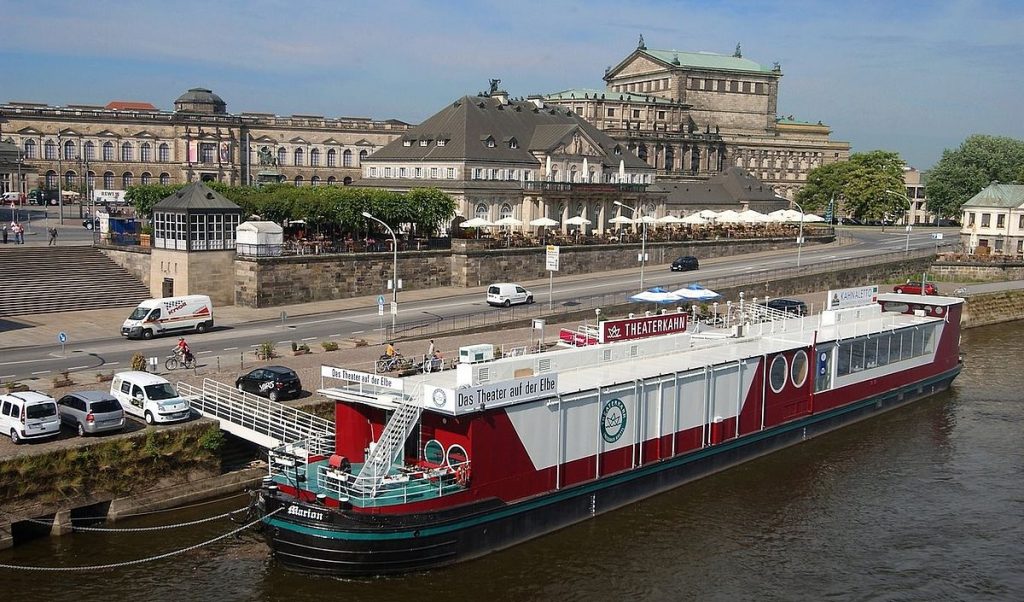 A few days later, Tom Pauls, companion of the first hour, returned with an offer. In the Alberthafen dock sat a rusty old barge named Ida, launched in 1918 and out of service since 1986. The boat changed owners for the nominal sum of one mark but then proceeded to cost a fortune in repairs. The barge changed its name and usage: Ida was renamed in honour of Marion Ermer, who sponsored the project. And instead of goods, the barge has been conveying stories ever since.
The first performance took place on the theatre barge on 3rd October 1994 when Fiete Junge premiered his Kästner routine: Es gibt nichts Gutes, ausser man tut es (Nothing good happens unless you do it). And it is not only Junge's cabaret programmes that have been a regular feature of Theaterkahn Dresdner Brettl since. Tom Pauls with his Zwinger Trio, cult character Ilse Bähnert and Michael Fuchs with his band have been part of it since the beginning. Cabaret, revue and drama in complete harmony.
Böhme's aspiration is "a theatre that is accessible to all". His role model is Charlie Chaplin, "one of the last universal artists". And he wants humour to have social status.
Consequently, his sketches are always about more than situation comedy and quick-fire punch lines. What is usually labelled as comedy is in fact more complex. "Our heroes are tragic figures," explains Böhme.
For example, the play Bauland (Building Plot) tells of a grandfather, father and son, who develop their own ideas of whether and how their traditional car repair shop can still be saved. Lothar und der Kormoran (Lothar and the Cormorant) is about an ageing man who has been confiding his worries to a grumpy carp over the years. The fish is a slippery customer, but it doesn't contradict either.
"Culture is the story that a society tells itself about itself," explains Böhme. "And art should question this culture, even to the point of torpedoing it." The ensemble has thus preserved its rebellious spirit while creating its own traditions. And with 2019 being Kästner's 120th anniversary, the artistic director is reviving Es gibt nichts Gutes, ausser man tut es.
Theaterkahn Dresdner Brettl, Terrassenufer an der Augustusbrücke, 01067 Dresden
Programme and tickets: theaterkahn.de