Scientists often lead an unsettled life. Hans Müller-Steinhagen has moved no fewer than 19 times in his career. Born 1954 in Karlsruhe and a graduate in Mechanical Engineering, he has had stints as professor in Auckland (New Zealand) and dean in Surrey (England) as well as spending many years in Stuttgart. When he came to Dresden in 2010 to take up the position of Rector of the Technical University, it was "love at first sight… I have never before been made so welcome as I was in Dresden." He especially appreciates ​​the atmosphere of this city where cultural, social and academic life are interwoven in such a unique way.
Altana Gallery at TU Dresden
"This is my favourite place on the TU Dresden campus. The building was originally designed for the needs of the Electrical Engineering faculty. It has since been repurposed with modern facilities for research and student work placements as well as space for art exhibitions. The exhibits have come from our own collections – of which there are more than 40 – as well as from young artists. This interplay of history, technology and contemporary art is incredibly stimulating."
The young Dresden company Zigpos has developed sensors that make it possible to precisely locate objects inside and outside of rooms.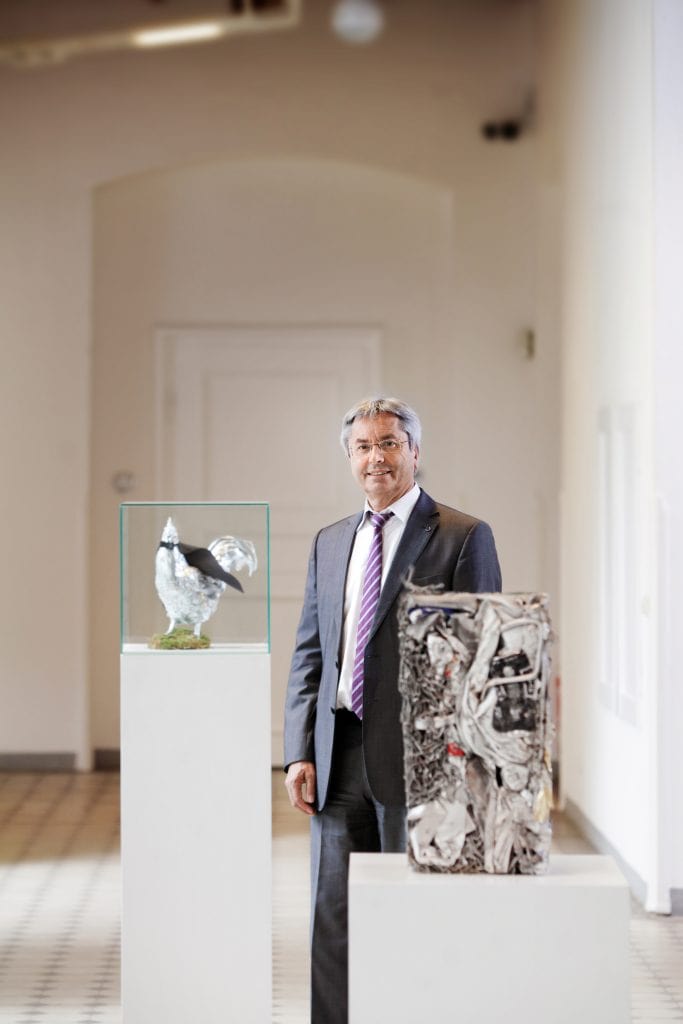 Weingut Zimmerling
"There are many attractive and well-run wine estates around Dresden, but Weingut Zimmerling exudes a special charm. Klaus Zimmerling makes a great wine – only recently, I sampled a wonderful Kerner Pinot Gris Cuvée there. You sit outdoors and have this incredible panorama of the Elbe Valley. And as a bonus, you can admire the sculptures by the well-known artist Małgorzata Chodakowska, who also happens to be Klaus Zimmerling's wife. This threefold combination of art, the view and a good glass of wine is balm for the soul. It makes the Weingut Zimmerling a very special place."
The Saxon Switzerland
"The Sächsische Schweiz (Saxon Switzerland) has tremendous recreational value for me as an enthusiastic hiker. My wife and I go for at least one walking holiday every year. I have also been on several dinghy trips down the Elbe from Bad Schandau to Dresden with my colleague and friend Wieland Huttner who was director of one of the local Max Planck Institutes until 2018. It takes three to four hours to reach Dresden, passing the Bastei rock formations, several extensive vineyards and the famous Elbe palaces. The scenery is incredibly beautiful. Key sections of our application for University of Excellence status were actually conceived in this dinghy."
SLUB
"The Sächsische Staats-, Landes- und Universitätsbibliothek (Saxon State, Land and University Library, or SLUB for short) is a repository of books and documents, photo collections and treasures of art such as a Gutenberg Bible and an ancient edition of the Koran which are on public display in a special vault. SLUB is also a place where students can obtain digital access and use various other modern media such as 3D printers.
Much of university life goes on in this place which so effectively connects the past with the present and the future. Unfortunately, my duties no longer permit me to actively engage in research or teaching. As the rector of an institution with 40,000 staff and students and an annual budget of more than 600 million euros, my primary role has to be managerial. But when I receive visitors who are not from Dresden, I always take them on a tour of the library."
Saxon Steamship Company
"Dresden has the largest fleet of paddle steamers in Germany. A cruise along the Elbe Valley on board one of these ships is an amazing experience. Once a year, TU Dresden and DRESDEN-concept (our scientific network) invite more than 400 academics from Germany and abroad to spend an evening together on the largest steamer in the fleet, the 'August der Starke'. This international gathering is always an uplifting occasion for me."