Five researchers, five disciplines, five passions
Gianaurelio Cuniberti – tiny components & grand opera
"Stay hungry, stay foolish" is the motto of Gianaurelio Cuniberti, Professor of Materials Science and Nanotechnology at the Faculty of Mechanical Science and Engineering. His is a world of nanotechnology and nanoelectronics. In the field of bio-nanosensors, Cuniberti's laboratory is researching into nanowires that enable extremely precise measurements to be taken. Bio-sensors are set to play a major role in medicine, detecting bacteria in water or, in the form of nanosensors, malpractice in the food industry.
But Cuniberti is also an aesthete: "Parfumiers such as Lancôme or winemakers depend on discerning noses and pay handsomely for their services." Perhaps it is due to his background, having descended from an aristocratic (albeit impoverished) Italian family – whatever the reason, the physicist generally appreciates "the good, the beautiful and the true things in life". In his office, he has a Baroque fresco depicting Saint George and the Dragon. He also has a season ticket for the Semperoper, immersing himself in the sublime music at least once a week. And another feel-good factor is that the Fraunhofer Institute and the Max Planck Institute are within cycling distance: "I love the city campus." When his Italian grandma recently stumbled across a PEGIDA demo while sight-seeing in Dresden, he reassured her: "It's only one tiny part of this great cosmopolitan city."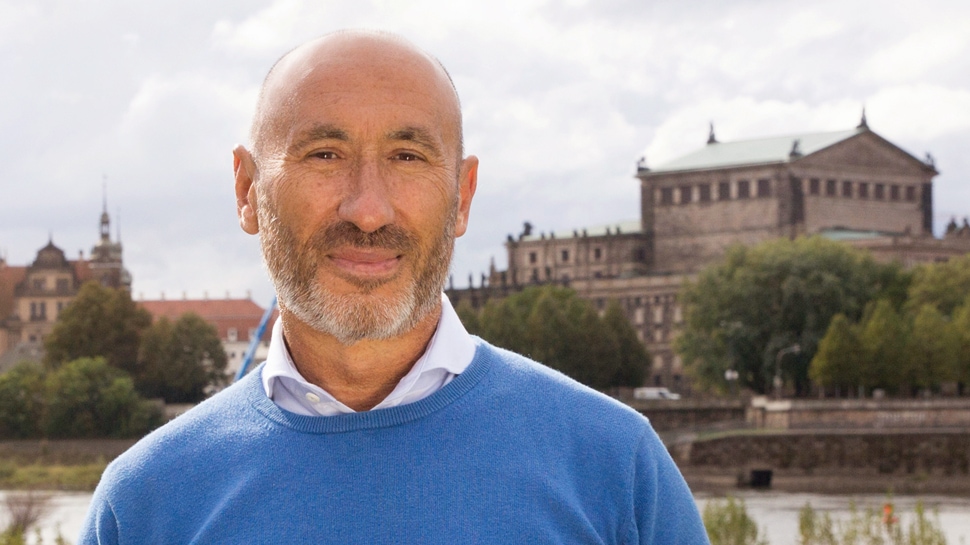 Antonio Hurtado – paella, wine & discussion
Antonio Hurtado would ideally like to invite all the other scientists to join him around a pan of home-cooked paella and "discuss things over a glass of wine". The son of a Spanish immigrant worker, he left school without any qualifications, but at the age of 16, he found a mentor who persuaded him to try again. Today he is Professor of Hydrogen and Nuclear Energy at the Institute of Power Engineering, TU Dresden.
Although nuclear energy has been looked on as a retrograde technology since the push for renewables, Hurtado believes that the country needs an energy mix in order to remain competitive. He is researching into fourth-generation modular reactors that are so safe as to exclude the risk of nuclear meltdown because they are operated at a completely different temperature level. He came to Dresden "because the research situation in the Free State is excellent". He is planning a rather different sort of project in his own time, namely a pilgrimage on the Way of St James in Portugal, taking in famous wine-growing areas on the way. He will bring back a bottle to spice up his paella: wine, science and safe reactors are Hurtado's passions in life.
Federico Calegari – small ships & big brains
Federico Calegari, team leader at the Center for Regenerative Therapies (CRTD) in Dresden, a 'Cluster of Excellence' in the German Research Foundation, is researching the future of biomedicine. Neural stem cells in the brain are his special field of expertise. His team at CRTD has succeeded in stimulating the human body to generate its own stem cells within the brain, a development that could revolutionise biomedicine over the long term: Alzheimer's, depression or stroke could be treated and cognitive learning processes enhanced. In Dresden, the Italian derives considerable benefit from being on a multidisciplinary campus, the biggest of its kind in Europe: "A sort of international bio-hub has come into being here." The experts on stem cells in the bones and blood frequently exchange ideas over a beer. During his free time, the biomedical engineer has a complete change of activity – he recreates historic ships in miniature.
Susanne Narciss – second violin & high-grade learning
After obtaining her PhD, Susanne Narciss helped establish the multimedia learning lab project in 1994. She then took up professorships abroad, but has since returned to the Department of Psychology to take up the chair in Learning and Instruction, in which capacity she conducts research into what constitutes a 'smart learner' in the digital age. Her team is examining how self-regulated acquisition of skills works in the digital age and the role played by feedback. This can only be done via the multidisciplinary route: one of her post-doctoral colleagues has recently been working with computer scientists on ways in which students might use their smartphones to steer the direction of a lecture. An innovative research project on Industry 4.0 is exploring the interaction of humans and technology, using Narciss's expertise in cybernetic feedback. Narciss plays second violin in a quartet whose members all happen to be professors. She was recently bowled over by a performance of La Traviata at the Dresden Semperoper. So what are her other interests? "A hike in the Elbe Sandstone Mountains is always a special treat. We are so blessed to have this wonderful scenery on our doorstep."
Shu-Chen Li – abstraction & watercolours
The research work which Shu-Chen Li from Taiwan is engaged in relies on analytical thinking. On the walls of her lab, however, she has hung watercolours from her own brush: "It's a good antithesis to too much abstract thinking."
Since 2012, Li has held the Chair of Lifespan Developmental Neuroscience. Human cognitive and neurocognitive development is studied here, from the prenatal stage through to old age. One project deals with the long-term effects of prenatal administration of steroid hormones on the way in which adolescents are later able to handle stress. Another is investigating the influence of dopamine on the spatial orientation of humans, especially in Parkinson's patients. "There has been a marked trend towards the best students studying in Dresden," says Li. The scientist makes full use of the highly relevant interfaces at TU Dresden, especially in the neurosciences. Li relaxes by jogging, playing the piano or enjoying music: "I could listen to Johann Sebastian Bach all day."
University of Excellence TU (Technische Universität) Dresden was designated one of the eleven German 'Universities of Excellence' in 2012. The so-called 'Clusters of Excellence' in Dresden include the Center for Advancing Electronics (cfaed) and the Center for Regenerative Therapies (CRTD) at TU Dresden.