Once a year, tipis are opened in the Lößnitzgrund in Radebeul and Indian songs sound through the forests. For a few days the Wild West comes alive again in Dresden Elbland. No wonder: Here in idyllic Radebeul Karl May finally found the inspiration for his adventure novels about the Mescalero Apache Winnetou and Old Shatterhand.
With guests from all over the world, traditional dances and lots of music from American natives, this year's event will be celebrated from 31 May to 2 June. In addition to representatives of the White Mountain Apache Tribe from Arizona, the "Le-La-La Dancers" from the Canadian Indian tribe Kwakwaka'wakw will also be there. For over 30 years they have kept the traditions and customs of their tribe alive in the Canadian state of British Columbia.
In an exclusive interview, the Le-La-La Dancers tell us what their origins and attunement mean to them and why the long journey to Radebeul is so special.
Your ancestors were Native Americans. Please tell us a little about you and what you do as a group.
George Taylor is the founder of the "Le-La-La Dancers". He comes from the Kwakwaka'wakw Nation of Vancouver Island and grew up in the Namgis Reserve in Alert Bay, British Columbia, Canada. His parents came from chieftain families. He was taught by his father in most areas of his nation's traditional history and culture.
After graduating in social work, George Taylor moved to Victoria in 1976 to become a social worker for several First Nations' groups. Under the leadership of elders and chiefs, the Le-La-La Dancers Society was founded in 1987. Since then, George has dedicated himself with much hard work and dedication to developing and leading a traditional performance group.
The number of tribes is not small. What is special about the Kwakwaka'wakw?
The Kwakwaka'wakw (pronounced: KWOK-wok-ya-wokw) have built a rich culture that reflects and recognizes our natural environment. Our songs, stories, dances and ceremonial objects honor the animals, rivers, cedar trees, salmon and all the things that contribute to the physical and spiritual preservation of the Kwakwaka'wakw.
There are many books about the life of the Native Americans. What cultural traditions do you still cultivate today?
Many people believe that a rich and powerful person is someone who owns a lot. The Kwak´wala see it differently: a rich and powerful person is someone who gives away the most. For a long time the Kwakwaka'wakw have been organizing potlatches. Even today this ceremony plays a central and connecting role in community life. The word "Potlatch" means "to give". Guests who participate in this event receive gifts. The more gifts are given, the higher the Potlatch host's status.
The Potlatch ceremony marks important events in the life of the Kwakwaka'wakw: the naming of children, marriage, transfer of rights and privileges, and mourning for the dead. It is a festival that shows all the pride of the tribe: Masks are worn and dances are performed. It is a great spectacle.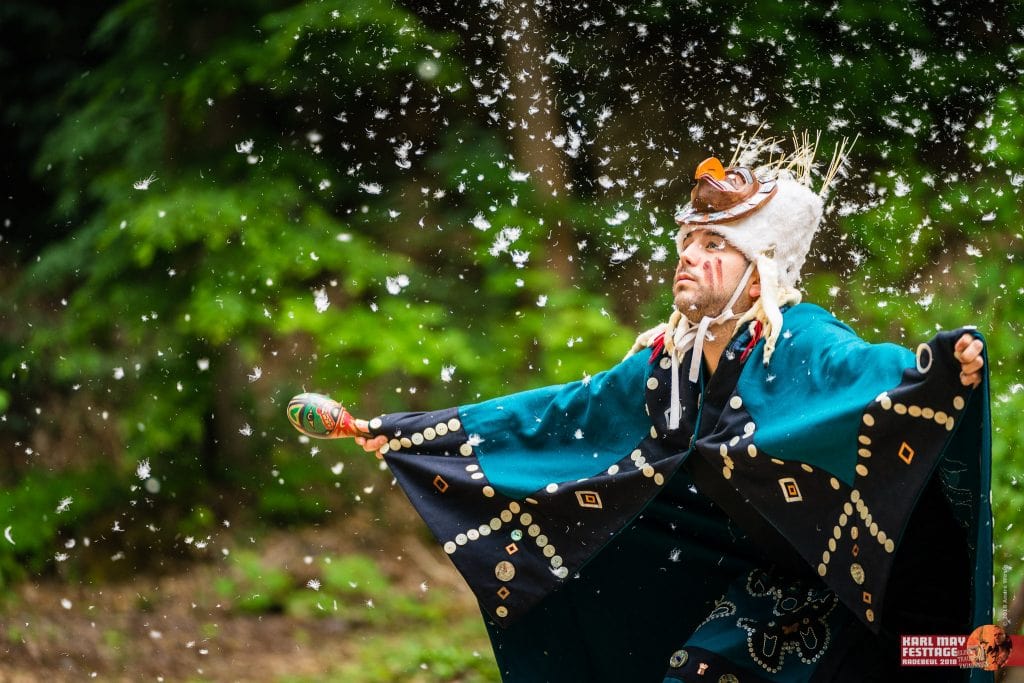 Good cue. What do you express with your dances?
In our culture we dance and sing to celebrate life. Each family has its own history, which tells how it comes from a first ancestor. These stories tell of encounters with supernatural beings, animals and other families. They show spirituality and bring to life the privileges handed down by our ancestors.
All your costumes look pretty elaborate. Do you produce them yourself?
Most of our costumes are made by us in a traditional way or are handed down by family members over generations. Our masks carved talented hands from artists in our family.
This is not the first time you have made the long journey to the Karl May Festival in Radebeul. What memories do you still have in your heart?
We like the natural setting of the festival in Dresden Elbland. Here everything is planned with a lot of heart for detail and the visitors love our culture. That's great to experience.
Radebeul is about 8,000 km away from your home. What makes you take this "travel strain" upon yourself?
The opportunity to share something of our traditional culture with people in Germany through dance and singing is unique. The people here rarely have the chance to experience how many different kinds of indigenous culture live in North America today. We want to make this knowledge tangible. This is always an exciting encounter and experience.
The Karl May Festival has taken place every year since 1992 on the weekend after Ascension Day, 2019 from 31 May to 2 June.
Further information and tickets at www.karl-may-fest.de