Before she took up sandwich-making full time, Luisa Dlugay studied Communication Design. The subject of her degree dissertation: How could the good, old-fashioned sandwich win back its standing, this time as healthy fast food?
When she finished her studies, she did not seek a job in an advertising agency, as many of her fellow graduates did: "I had spent so much time on theoretical research that I now had to put my ideas into practice." The result of this life-changing decision can now be found in Dresden Neustadt.
Stullenbüro is where the twenty-going-on-thirty-year old serves up her concept of fast food: imaginative spreads on sourdough bread from the bakery next door. These are made from radishes and fennel, from chanterelles and fresh cheese or from something completely different.
The menu changes every day, but you can be sure of one thing, namely that there will always be three different toppings that are fresh, vegetarian and utterly delicious.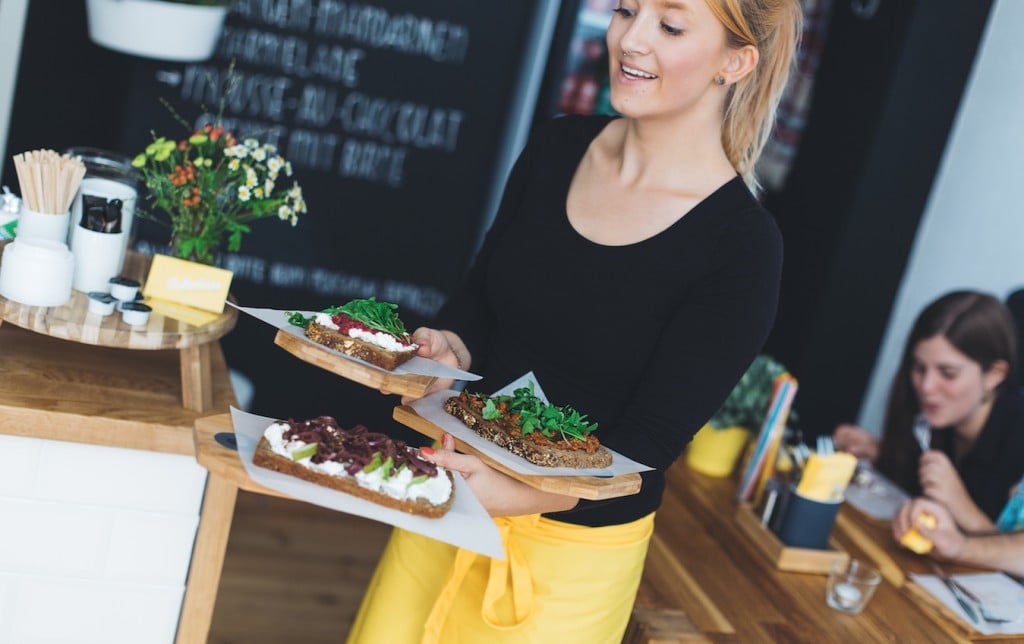 The insider tipps keep coming
Stullenbüro is one of those insider tips that Leni Diener always includes on her culinary tours through Dresden Neustadt. But there are far more of these locations than you might expect. Because although the alternative quarter on the northern side of the Elbe long ago acquired a reputation for being brash and vibrant, it has more recently begun to attract connoisseurs of fine dining.
It's true that, at first glance, you will see cheap pizza parlours and fast-food restaurants on virtually every block, but there's more to Neustadt than that: "Dresden is coming round to accepting us," says Luisa Dlugay. "Everything in Dresden needs time."
Leni Diener nods her head in vigorous agreement. For the past six years, this graduate in Ethnology has been organising guided tours through Neustadt, in the course of which foodies sample the spicy dishes at Zaffaran, taste amazingly good lentils at Sprout Food and eat hand-made pelmeni and plini at Zarewna, accompanied by a sinfully sweet, but also uniquely delicious cocoa.
What makes these tours so good, however, is that you keep discovering out-of-the-way places that give the lie to the slightly seedy reputation of the district. Green oases, quiet inner courtyards, idyllic gardens which seem at odds with the common clichés about Neustadt – the fine upstanding folk on the other side of the river used to think of it as the 'Bronx' of the Saxon state capital.
A sensual relationship to chocolate
Under the expert guidance of Leni Diener, you find a building in one of these secluded courtyards that was once the Jordan & Timaeus chocolate factory. Milk chocolate was invented here in 1839. The only clue to this chapter in the culinary history of Dresden is to be found in the names of the adjoining streets – Timaeusstrasse and Jordanstrasse.
Although the factory is no more, the city still maintains a deeply sensual relationship with chocolate. And even Dresdeners who find it a bit too sweet love Das Wiener Schokoladenmädchen (The Viennese chocolate girl), a painting by the Belgian artist Jean-Étienne Liotard, which has hung in the Old Masters Picture Gallery in the Zwinger since 1855.
Culinary Tour
Leni Diener's guided tours of Dresden Neustadt also run in the evenings, one of which is advertised under the English name 'Walking Dinner'. tasty-dresden.de
Adresses
Stullenbüro
Görlitzer Straße 37, 01099 Dresden, Mon – Fri, 8am – 6pm; Sat, 10am – 6pm
Sprout Food
Rothenburger Straße 12, 01099 Dresden, Mon – Sat, 11am – 9pm
Gewürzatelier Zaffaran
Martin-Luther-Straße 20, 01099 Dresden, Tues – Fri, 11am – 6pm; Sat, 10am – 2pm
Exhibition
"The chocolate girl by Jean-Étienne Liotard". 06/01/19 in the Galerie Alte Meister (Old Masters Picture Gallery) at the Zwinger. Further information can be found at https://www.skd.museum.