Superman is there too, but he has probably overshot the target, because there he is, muscles bulging, his head rammed into the pavement and his legs pointing ramrod straight skywards. Auch Helden haben schlechte Tage (Even heroes have bad days) is the name of the larger-than-life sculpture by the Berlin-based artist Marcus Wittmers.
"Superman is nice and colourful; he draws people in, especially with it being autumn," says Holger John cheerfully. Yet Wittmers is actually one of the lesser-known names currently on display in his gallery. Standing and hanging alongside are works by Andy Warhol, Jeff Koons, Damien Hirst, Gerhard Richter and Banksy, the superheroes of the art market.
Holger John's choice of Die Unbegabten (The Untalented) as the title of the exhibition is, of course, also tongue in cheek. The most famous and expensive artists of our time are probably not without talent – even though some people may in past have privately thought that the screen prints by Warhol seem a bit casual. Or have asked themselves what exactly is so special about the bubblegum-like sculptures by Jeff Koons? Especially as he got his assistants to actually make them.
John likes wordplay, and he likes to play with the prejudgements of the viewer. He called an exhibition of East German art Schnee von gestern (Yesterday's snow) and one featuring the works of female artists Frauen können auch malen! (Women can paint too!).
'The Untalented' poses the question: What is art? What does a work have to be capable of in order to qualify as art?
Holger John likes the colourfulness, the playfulness and the intellectual pretensions of Pop Art. John has been running his gallery in the Baroque Quarter since 2013. When he is not in Dresden, he is to be found in Berlin or his home island of Usedom. He is not only a painter himself, but also a graphic artist and event manager. He has already staged projects with Immendorff, Baselitz and the industrial metal band Rammstein.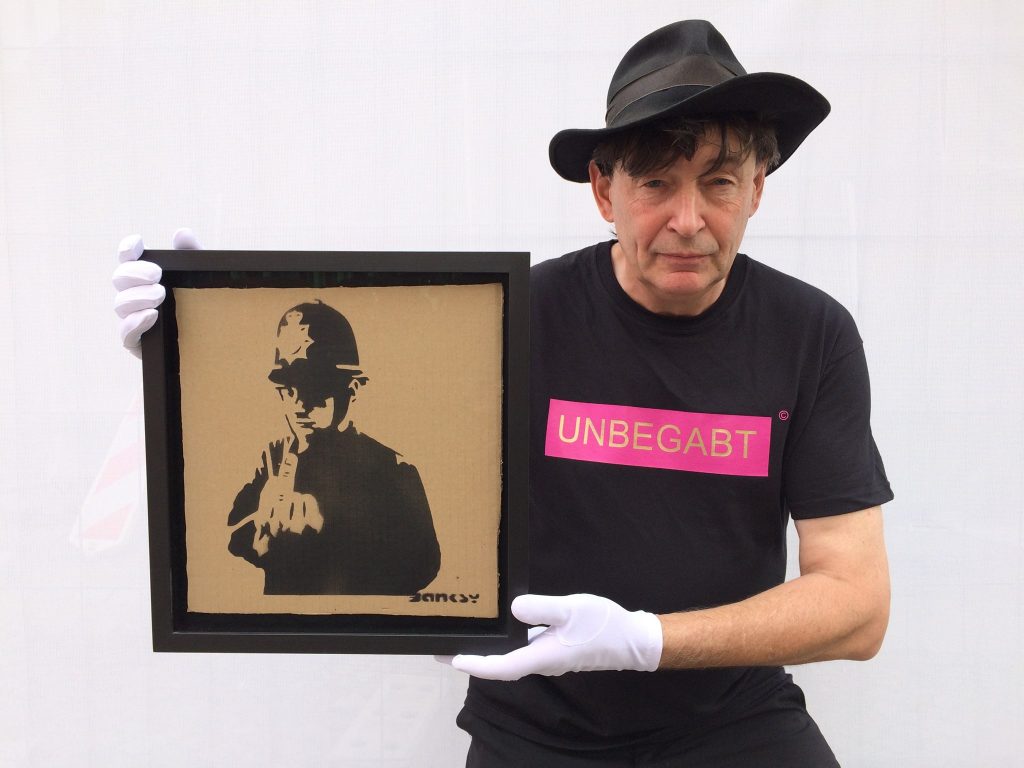 "The reason why Warhol, Koons and Hirst have become so big is because they are great strategists," says John. "They know exactly how to achieve top prices. In essence, they are more product designers than artists." Criticising them as capitalist misses the point, because they themselves are already criticising capitalism. Or satirising it. Or profiting so unashamedly from it that they make it respectable again.
The 58-year-old is, however, far removed from the elitist side of the art business. Asked about the excessive prices commanded by the star painters, he says: "It's all down to an element of collusion in the art market." But that does not mean that John considers the individual works worthless. For example, the metallic-finish porcelain monkey by Jeff Koons currently on display in his gallery exerts an "incredibly magical power". He is fascinated by how Koons plays with the material. And he is able to get a lot of pleasure from humorous art.
For example, the Trump firework figure by Chinese artist Feng Lu – a rocket from China bearing the likeness of the US President. "It makes me want to reach for my cigarette lighter," he says with a mischievous smile. But then he manages to control the urge.
Die Unbegabten (The Untalented)
The exhibition runs until 18th November. Open Tuesday to Sunday from 2 to 7 pm and by appointment. Admission free.
Galerie Holger John, Rähnitzgasse 17, 01097 Dresden, Tel. +49 (0)162 4772739