Grosser Garten – the green heart of the city centre
Located in the heart of the city is Dresden's largest public park, the Grosser Garten. Joggers as well as seriously competitive runners can plan a circuit of the park appropriate to their own level. The well-kept paths around the Palais link the Botanical Garden, the Carolaschlösschen restaurant and the Dresden Zoo. The extensive lawns are popular for sunbathing and picnicking or simply getting your breath back. The tarmac access roads are also popular with skaters. And you can carry on running in the evening, as there is lighting on all the main paths.
The Elbe Valley – a green playground for everyone
The grassy embankments of the River Elbe are highly suited to a variety of sporting events. Whether you're competing in the REWE Team Challenge or the Centrum Galerie Dresdner Nachtlauf (night run) or simply jogging along, the beauty of the Dresden skyline is always a prominent feature. The length of the route can be adapted to the runner's individual fitness programme, as the three bridges between the Marienbrücke and the Blaues Wunder make it possible to cross from one side of the river to the other.
Moritzburg – a beautiful backdrop for leisure activities
Set amidst a vast forest and lake landscape north of Dresden lies the baroque castle of Moritzburg. On hot days in particular, the shady woodland paths are ideal for a training session. Although Moritzburg is more than a mere insider tip among the running fraternity, the sheer size of the estate means that it stays far quieter than the Elberadweg (Elbe Cycle Route), which can get quite crowded at the weekends.
Dresdner Heide – an introduction to the trail running experience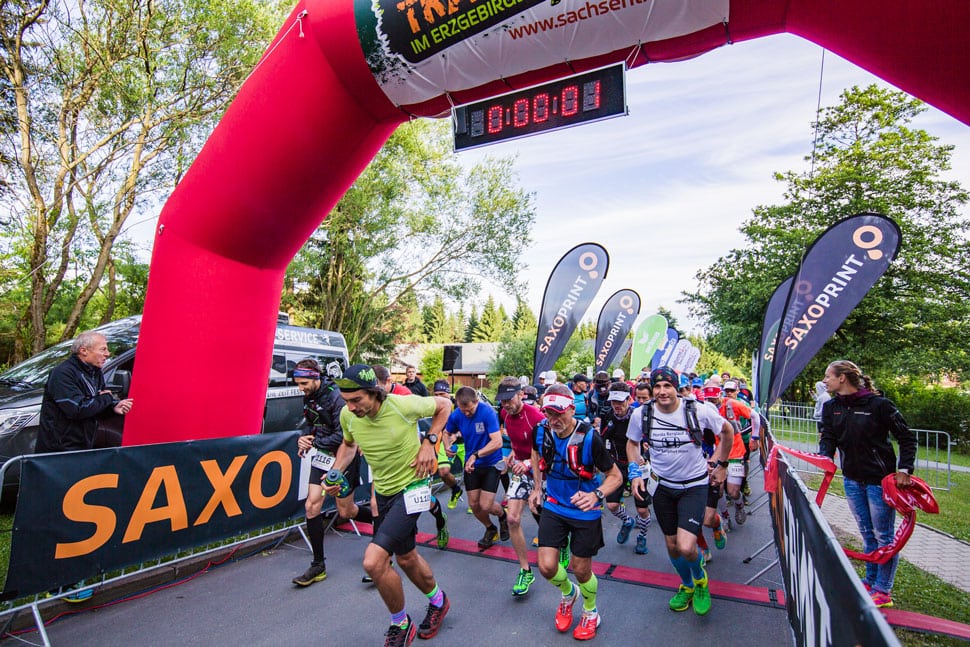 Bordering on the built-up area, Dresden's largest continuous forest, the Dresdner Heide, is very popular with hikers and runners. The beautiful woodland paths combined with easy ascents along the Priessnitz river are ideal for trail running. A local sports club, SG Weixdorf, organises the traditional Quer durch die Heide (cross-heath) run in late summer. After a one-year break, the event will be staged for the 41st time on 16th September 2017. The 22km course across the Dresdner Heide is open to runners and walkers.
Saxon Switzerland – a national park on our doorstep
Setting off east from Dresden, you soon enter one of the most impressive and unique landscapes in Germany – the Saxon Switzerland National Park. Deep gorges and breath-taking panoramas at dizzying heights invite trail runners to plan routes that are as strenuous as they are scenic. If you're looking for the ultimate challenge, you've found it in the SachsenTrail (30th June 2018). Narrow paths, steep climbs and a wonderful backdrop to your run – the SachsenTrail through the hilly terrain of the Erzgebirge is a real adventure, culminating in the Ultra Trail which is guaranteed to raise your pulse rate.