Saxony may be the smallest of Germany's wine-growing regions, but that makes it the ideal size for a bike tour.
Our route takes us through the Elbe valley north of Dresden and begins in Meissen near the Sächsische Winzergenossenschaft (Saxon Winegrowing Cooperative). The former royal estate of Kurfürstliches Weingut has a museum – Wein-Erlebniswelt – and a well-stocked shop where wine produced by members of the cooperative is on sale. Membership numbers no fewer than 1,500 part-time and amateur growers. Throughout the region as a whole, there are more than 2,500 Saxons who grow and produce wine.
Award-winning wines
But now it's time to mount up again. We start with an uphill climb, the first and last one worthy of the name on our tour. Our destination is Schloss Proschwitz, one of the most historical estates in Saxony. Here too, there is a wine shop next to the restaurant where you can sample the award-winning wines.
We then head back down to the valley and take the Elberadweg in the direction of Dresden. To the left and right of the river are the hillside slopes on which wine has been cultivated for more than a thousand years. The vineyards and their retail outlets are close to the cycle path, for example Weingut Schuh in Sörnewitz.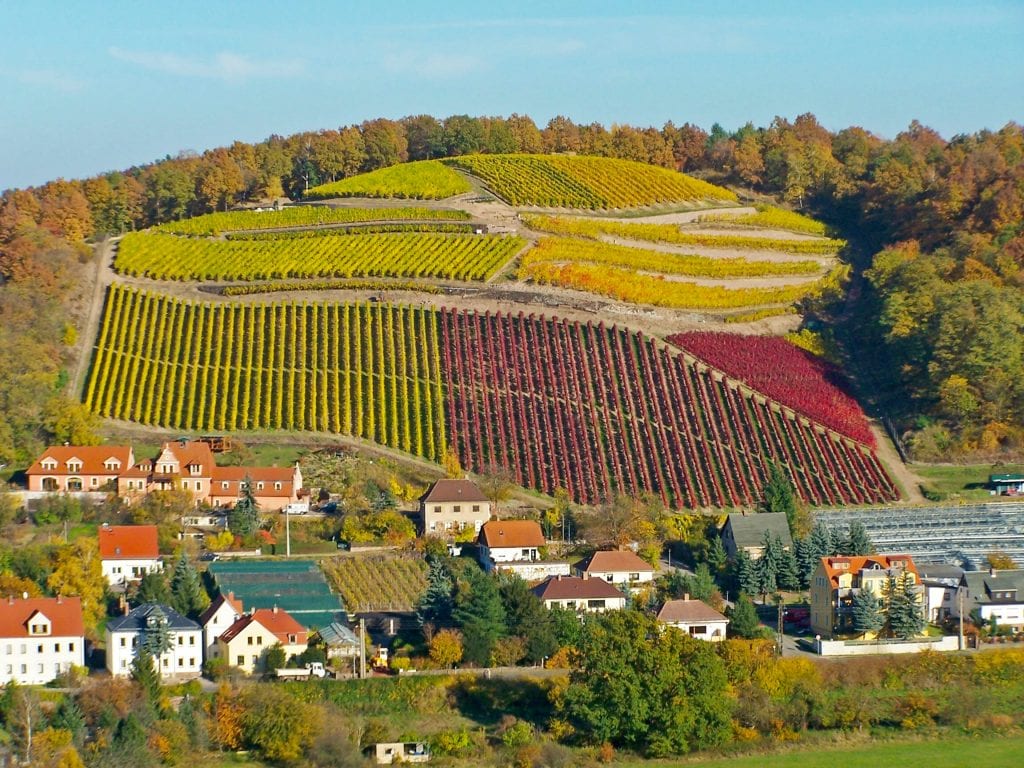 It is run by a brother and sister: Matthias Schuh is in charge of the growing while Katharina Pollmer concerns herself with the marketing. Their operation is a prime example of the entrepreneurial excellence of Saxony's up-and-coming wine region.
Now in their early thirties, Matthias and Katharina are pushing the boundaries of the trade. Their iconoclastic approach is still the exception rather than the rule in this easternmost growing region of Germany. Instead of cultivating the Golden Riesling grape, which is so typical of the area, they are experimenting with cuvées and modern marketing.
"Our philosophy is wines that reflect their origins," says Pollmer, who started out as a sommelier. "They must be allowed to mature properly." She fully approves of the way that Saxony is transforming itself into a wine region that is prepared to learn from others: "The younger generation of local growers are up there with the best. Things in Elbland are moving in the right direction. We have the perfect ingredients – nature, culture and tradition. We just need to use them."
Adresses
Sächsische Winzergenossenschaft Meißen, Bennoweg 9, 01662 Meißen
Schloss Proschwitz, Dorfanger 19, 01665 Zadel über Meißen
Weingut Vincenz Richter, Kapitelholzsteig 1, 01662 Meißen
Weingut Schuh, Dresdner Straße 314, 01640 Coswig OT Sörnewitz
Historisches Weinböhlauer Weingut, Kirchplatz 19, 01689 Weinböhla
Besenwirtschaft im Waldacker, Am Waldacker 9a, 01689 Niederau, Tel. 035243 / 44467